Uberti USA Celebrates 150 Years of the Model 1873 with Special Anniversary Edition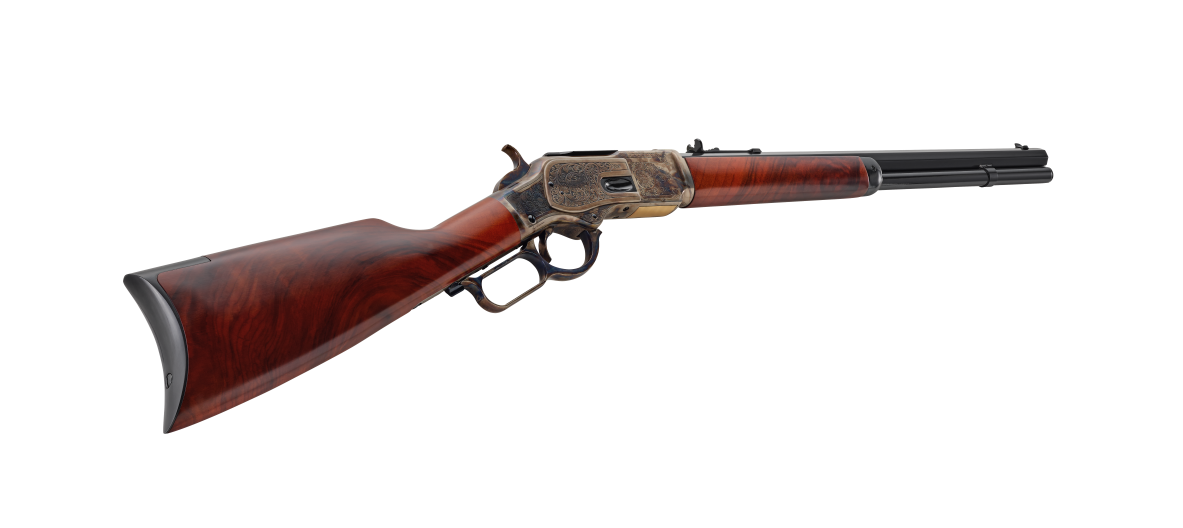 January 2023, Accokeek, MD – Uberti, the world's leading manufacturer of classical, single-action revolvers, western heritage black powder revolvers, and cartridge rifles, recognizes 2023 as the 150th anniversary of the famed Winchester Model 1873 lever-action—the "gun that won the West." To celebrate this milestone, Uberti is offering a commemorative edition of this classic firearm.
Following the same proven design as the original, the Uberti 150th Anniversary 1873 rifle is built on all-steel frame and features a 20-inch octagonal and blued steel barrel. Chambered in .45 Colt or .357 Mag./.38 Spl., this premium lever-action comes with an A-Grade satin walnut stock and forend. The warm, rich tones of the hardwood offer the perfect complement to the case-hardened frame and lever.
The star of this rodeo is the rifle's authentic-style engraving. Copied from an original 19th-century Winchester frame, Italian engraver Atélier Giovanelli executed the classical design.
While the 150th Anniversary 1873 rifle is built for field work and optimally sized for foot- or saddle-carry, it can also serve as a centerpiece for any western-themed collection or display.
Uberti 150th Anniversary 1873 Rifle Specifications
Caliber: .45 Colt; .357 Mag.
Action: lever
Capacity: 10+1
Barrel: octagonal
Barrel Twist: 1:16, RH, 6 grooves (.45 Colt); 1:18.75, RH, 6-grooves
Barrel Length: 20 in.
Total Length: 36 in.
Weight: 8.2 lbs.
Stock: Grade-A Walnut
MSRP: $1799
For more information on the 150th Anniversary 1873 rifle or to see Uberti's complete line of western-style revolvers and long guns for cowboy action shooting, ranch carry, range work, or collecting, visit Uberti- USA.com.
About Uberti USA
Uberti USA is headquartered in Accokeek, Maryland, manufactures a full line of exact replicas of the most popular guns of the Old West, down to the finest detail. Their production of black powder revolvers, cartridge revolvers and cartridge rifles set the standard by which Cowboy Action Shooting competitors and big game hunters judge other vintage firearms. Many are improvements over the originals, with the advancement of materials and the use of modern machinery. Uberti USA stands behind its products with a 5-Year Warranty.
Uberti USA | 17603 Indian Head Highway, Suite 200 | Accokeek, MD 20607 |Uberti-Usa.com
Media Contact: Kim Cahalan, [email protected] Office: (309) 944-5341
More Press Releases