Select Model:

1847 Walker Model
| Item Number | Model | Model Description | MSRP | Caliber | Barrel Length | Frame Finish | Cylinder | Grip Style | Grip Material | Barrel | Barrel Finish | Trigger Guard Finish | Backstrap Finish | Number of Grooves | Twist Rate | Overall Length | Avg. Weight |
| --- | --- | --- | --- | --- | --- | --- | --- | --- | --- | --- | --- | --- | --- | --- | --- | --- | --- |
| 340200 | 1847 Walker Model | Walker | $499 | 0.44 | 9" | Case-Hardened | 6-shot, engraved | Standard | Walnut | Round | Blue | Brass | Steel | 7 | 1:18, LH | 15.7" | 4.5 lbs |
Specifications and prices are subject to change without notice.
The story of this single action black powder revolver began the same day that the Alamo fell in 1836. That's when Samuel Colt began production of a revolving-cylinder pistol at his Paterson, New Jersey, factory.
The 1847 Walker revolver was enthusiastically received by the Rangers of the newly independent Republic of Texas.
The reputation earned by the formidable 1847 Walker revolver is what ensured gunmaker Samuel Colt's success.
Features & Highlights
Loading Lever and Latch
Loading lever and loading lever latch are near the muzzle.
Trigger Guard
Brass, square-backed trigger guard. An improvement over the Paterson's guardless folding trigger.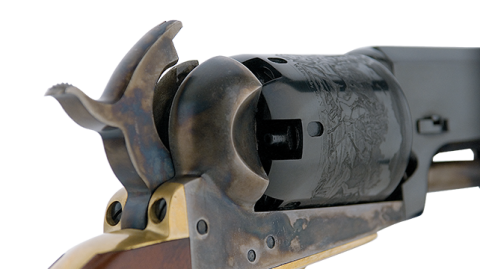 Loading Cutouts
Easy, secure seating of percussion caps.
1847 Walker .44-Caliber Revolver History
By Dan Carlson
Samuel Colt's Paterson revolver played a decisive role during battles between Texas Rangers and Comanche Indians in the mid-1800s. Texas Ranger Capt. Samuel Walker was so impressed by the performance of Colt's first production revolver in the tide-turning Battle of Bandera Pass that he met with Colt to collaborate on what would be the biggest and heaviest black powder revolver Colt ever produced – the .44-caliber 1847 Walker.
The goal was to make large-caliber six-shot revolver powerful enough to take down an enemy soldier or horse with a single hit. The result was a 4.5-lbs. gun that carried nearly twice the powder charge of other revolvers of the time. The weight made using a belt holster impractical, so the new Walker was primarily carried in a saddle holster. Though intended for use at 50 yards or less, there are stories about Walkers hitting targets as far away as 100 yards. It fired .454" round balls weighing approximately 140 grains at muzzle velocities in excess of 1,100 fps, and from the time it was introduced in 1847 until the .357 Magnum hit the market in the 1930s Colt's .44-caliber Walker was the most powerful revolver in the world – a title it held for more than 80 years!
The power, size and weight of the Walker did bring some challenges. The gun was cumbersome to wield and required considerable time to reload. Recoil was stout and occasionally caused the loading lever to drop from its stowed position. But Uberti's modern reproductions of this firearm do not exhibit these problems when used in accordance with the instruction manual.
The 1847 Walker has made a number of notable appearances in movies on the big screen. In "The Outlaw Josey Wales" Clint Eastwood carried two Walkers converted to shoot metallic cartridge blanks for safety reasons on the set. At more than 4 lbs. each, that was a lot of hardware for the actor to carry on his belt. Kim Darby shot a Walker revolver in her role as Mattie Ross in "True Grit." And Robert Duvall's character Gus in the miniseries "Lonesome Dove" carried a Walker.
It's estimated that 1,100 1847 Walkers were originally produced. It was the father of the next generation of Colt revolvers, the Dragoon series of 1848. Today an original Walker in good condition is extremely valuable to collectors.
Downloads